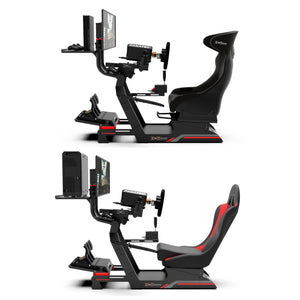 What's new in Extreme Simracing P1 and VIRTUAL EXPERIENCE 3.0?
What's new in Extreme Simracing P1 and VIRTUAL EXPERIENCE 3.0?
Hello Sim Racers, Extreme Simracing is very happy to announce the new generation of the VIRTUAL EXPERIENCE and P1 chassis, now stated as version 3.0.

After many years working and developing version 2.0, and also with the feedback of thousands of customers all over the world , Extreme Simracing is now featuring version 3.0 with an improved and updated design, bringing the best on chassis technology into your gaming room.

ACCESSORIES
By analyzing our data, it was revealed that from all past chassis orders, 80% of them were also purchased with some added accessory such as the TV Stand or the Keyboard Tray bundle with additional Gear Shifter Mount. So it's now stated that from now on, the rig will always be sold as a complete equipment, lowering the total cost of the chassis and seat + accessories from USD 927.00 to USD 899.00 for VIRTUAL EXPERIENCE and from USD 1.277,00 to USD 1.199,00 for the P1 version, making our products line suitable for the market demand.




Now, Sim Racing Rigs by Extreme Simracing are also included with a TV Stand with new 3.0 design that holds screens up to 55 " with a smart tray on the back to support your  PC or Console. It also comes with the articulated Keyboard Tray and an additional Bottom Gear Shifter Mount with mouse support in addition to what is already integrated in the base of the steering wheel as an original standard.

PEDAL TRAY
Another very important update was made to the pedal tray structure: the entire front design of the chassis was upgraded and now it is ready to hold the strongest pedals on the market with load cell system, a demand that was noticed in the American market and also by suggestion from some of our best customers, that's while maintaining angle and depth adjustments.




The front wheels located on the pedal support have also been maintained, so the user can easily move the entire station in case he needs to change the installation location.

DETAILS THAT MAKE THE DIFFERENCE
A small accessory was added to the update package, the object holder. This tray, which is embedded in the chassis, allows the user to support his personal objects such as wallet, cell phone, remote controls and joysticks, easily reachable within hands. Small details that make the difference, designed for the user's real needs.




CONSIDERATIONS
Interestingly, with all these updates, the size of the boxes has been reduced and all accessories are sent to the customer in one volume, where before they were sold in three separate volumes, improving the logistics process.

Shipping is still free throughout the continental American territory and the logistics center is moving from Orlando to the city of Miami, Florida.



---